For the Absolute Beginner - How to Sew a Pram Quilt
Posted on
A friend of mine who I used to work with many, many moons ago suggested that it might be worthwhile having a 'Beginner's Page'; a page that could include information about what kit would be needed for a beginner embarking on a journey into the world of quilting. I gave this some thought and decided that before producing a shopping list of all the bits and bobs that could be purchased, it would be more fun to actually make a sample or taster quilt with very little 'kit' and which can be made, from start to finish in a matter of hours. That way if a beginner likes what they've made, which I'm very much hoping they will, then it will be worthwhile buying some quilting essentials such as a rotary cutter, a cutting board, basting pins, etc. etc. I'd far rather have people wanting to quilt than feeling resentful that they've spent money on equipment they are unlikely to use.
There are no borders on this quilt or any binding and no machine quilting is necessary. It's a straightforward quilt and whilst it one is a small one exactly the same method can be used to make a much larger quilt. This small quilt would be suitable as a pram quilt or pushchair quilt. By using different fabric you could make a pet blanket or a wall hanging, whatever takes your fancy.
This blog is aimed at the beginner, who has not made a patchwork before but has used a sewing machine.
For the uninitiated, measurements often come in inches, so that is what I'll use in this blog. The finished quilt using a Charm Pack measures W26.5" x L31"
For the quilt you will need the following:
The quilt top will need a Charm Pack containing 42 pieces of 5" x 5" fabric - charm packs are also known as 'charm squares' or '5" stackers' to name a couple. Just make sure that you have 42 pieces of 5" x 5" fabric. Have a peek at the various Charm Pack options available in my shop.
Wadding - otherwise known as batting - and is sandwiched between the quilt top and the backing fabric. It's recommended that the wadding is at least 4" larger than the quilt top. I would suggest having a piece of wadding that measures at least W31" x L35"
Backing fabric - choose a fabric you like and which goes well with the colour scheme on your charm pack. I would recommend using cotton fabric. The backing fabric should be the same size as the wadding, so at least W31" x L35"
Thick cotton thread to 'quilt' your patchwork. The quilting part is when you sew the layers together.
In addition to the above you'll need the following, which I'm hoping you will have already have:
Sewing machine, cotton thread, scissors, pins and sadly an unpicker, which hopefully won't be needed but better to have it ready just in case. A new needle on your machine is recommended.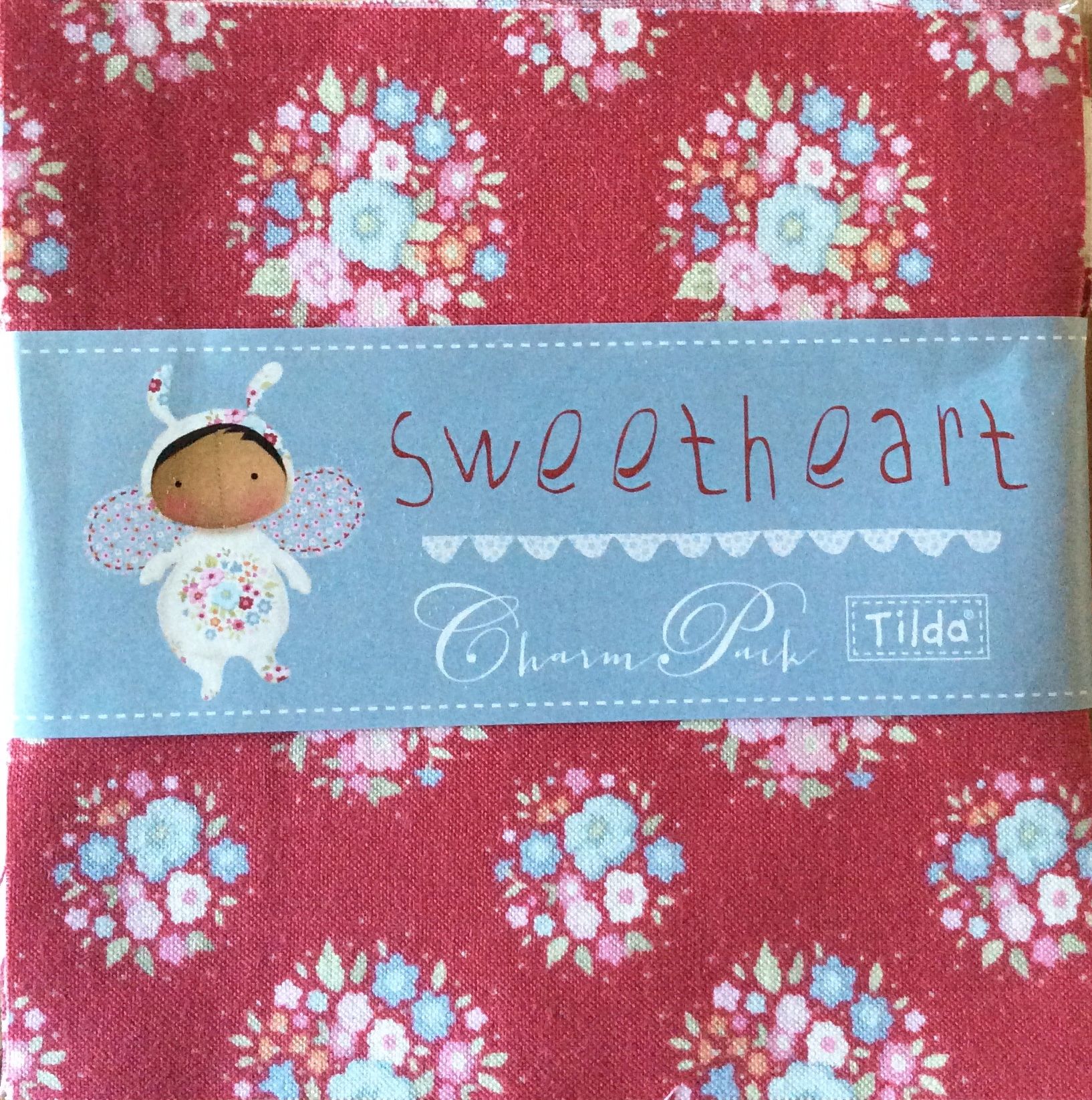 I used a Tilda Charm Pack called Sweetheart. Choose a Charm Pack that you like the look of and then lay the pieces out in 7 rows of 6. It's worth taking your time to make sure that you're happy with the layout. There are no strict rules about layout and it's a matter of personal preference. I try, not always successfully, to have some contrast, so lights and darks next to each other. Play around and see what happens. I often photograph various layouts before deciding which I prefer. Once you've decided on the layout then you can begin sewing.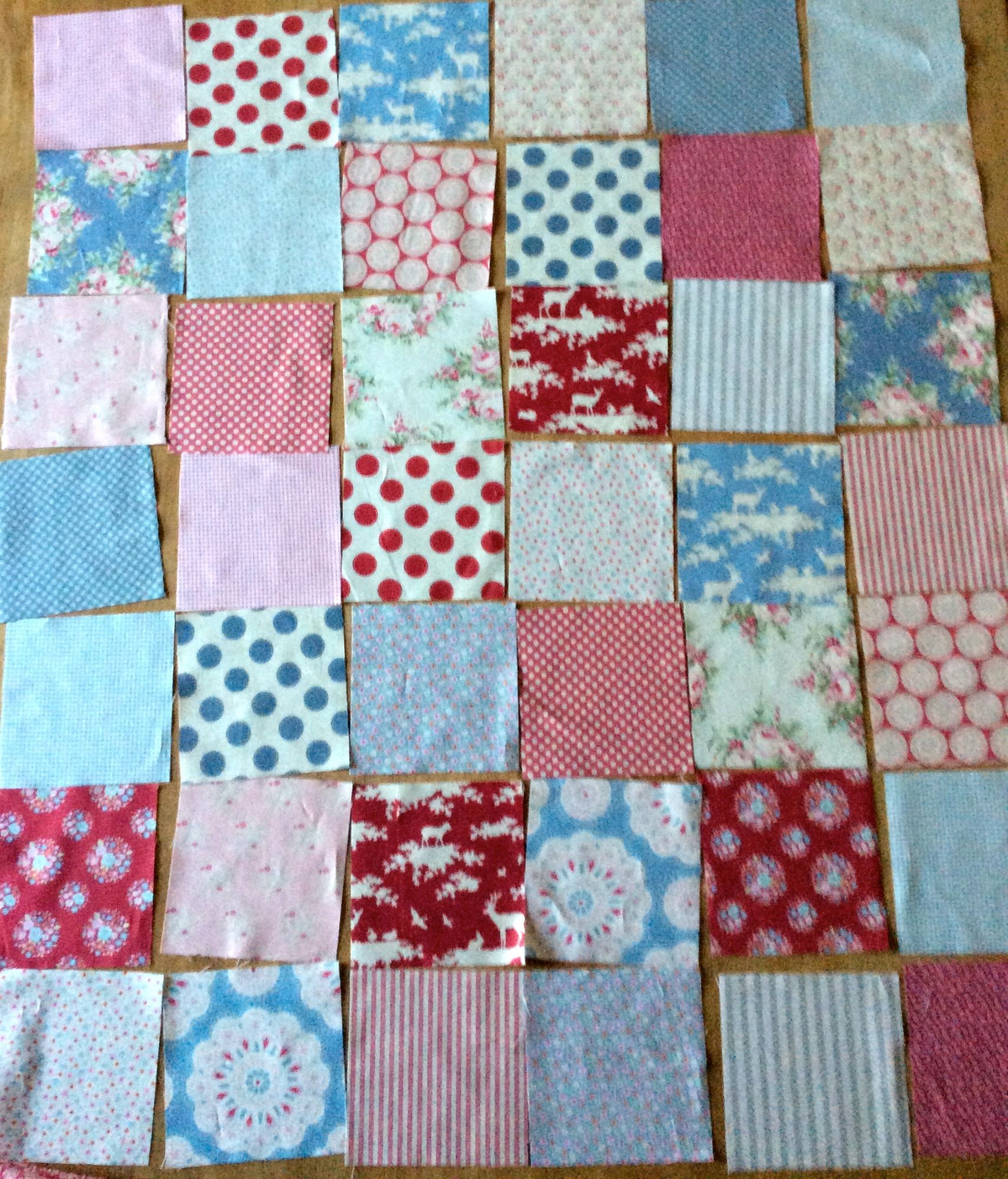 Quilters use a quarter inch (1/4") seam allowance and you should aim to make your seams as accurate as you can. If you haven't sewn a 1/4" seam before, use the needle plate of your machine as a guide. Sew the first row, taking the first two pieces (right sides together), add the next piece on and repeat until you've finished the first row. Check that you're happy with the seam allowance so that the seams match when you starting sewing the rows together. If the seam allowances vary it's time for the unpicker! Once you've sewn all seven rows, press the seams. The seams in each row ought to be pressed in opposite directions, so press the first row with the seams going in one direction and press the next row in the other direction. All will become clear below.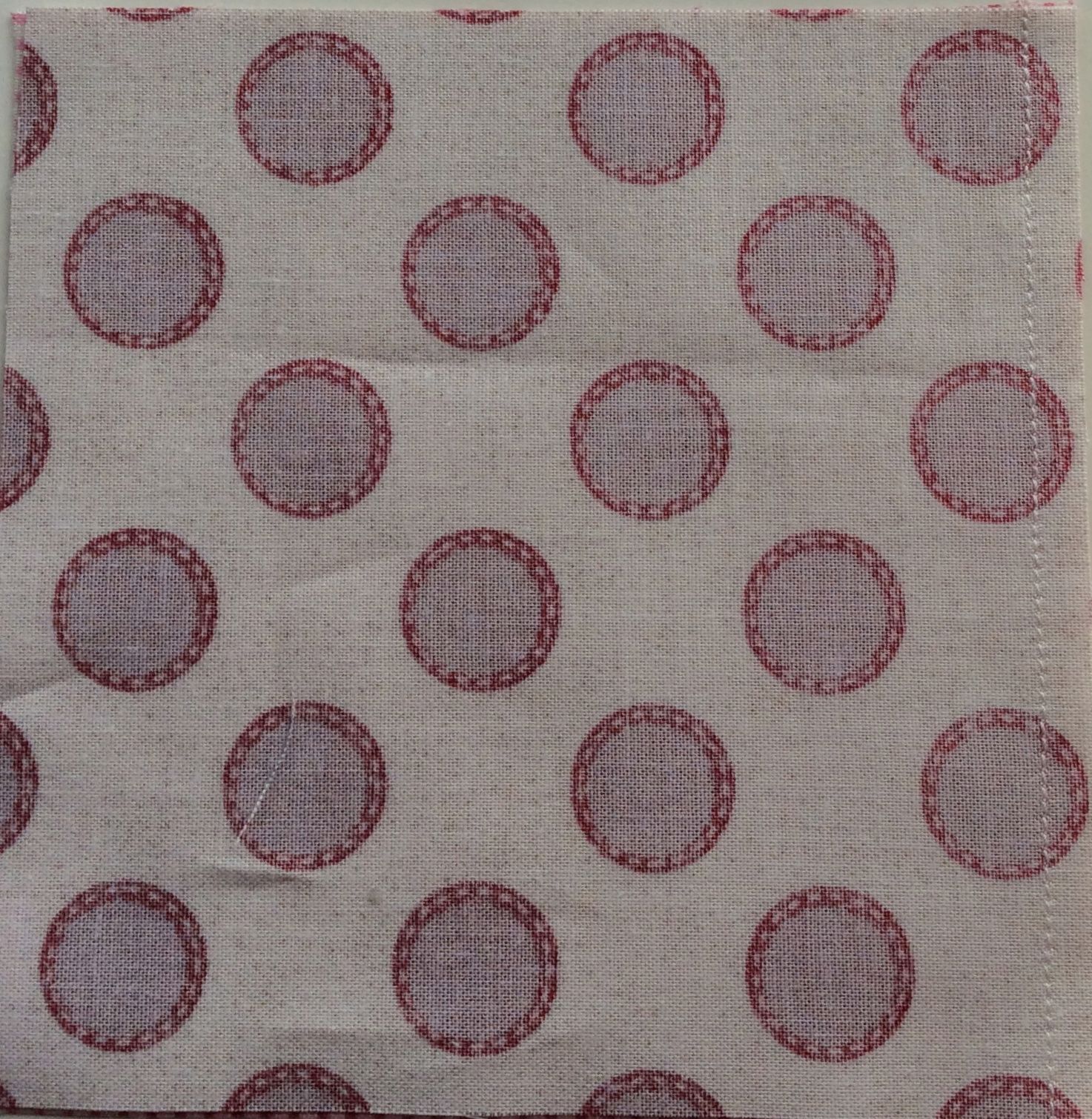 The rows now need to be sewn together. Taking the first two rows, place the fabric right sides together. Have a look at the seams, which should be pointing in opposite directions and you should be able to nestle the seams together with your fingers. Check that the seams are all lined up along the two rows before you start sewing. If the seams aren't lined up properly you'll probably be unpicking later on. You can use pins to hold the fabric in place I tend to sew pin free but others like to use them. There's no right or wrong way, so whatever you feel most comfortable doing. Just remember to remove any pins before sewing that section. Hopefully all seven rows are now sewn. You will notice that the quilt top has shrunk somewhat.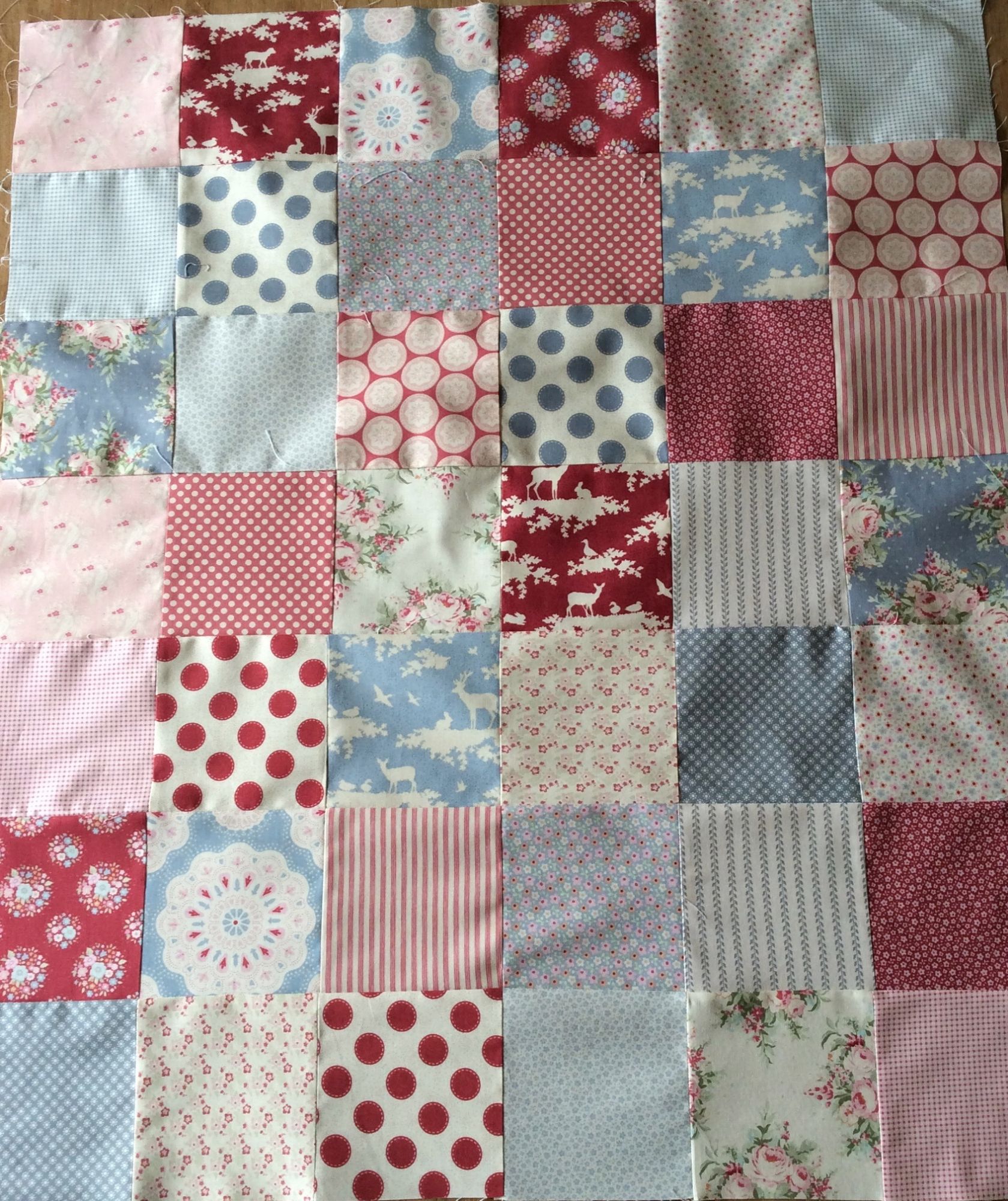 Before doing any more sewing, you need to press the quilt top as well as the backing fabric. You want the fabric to be crease free and smooth.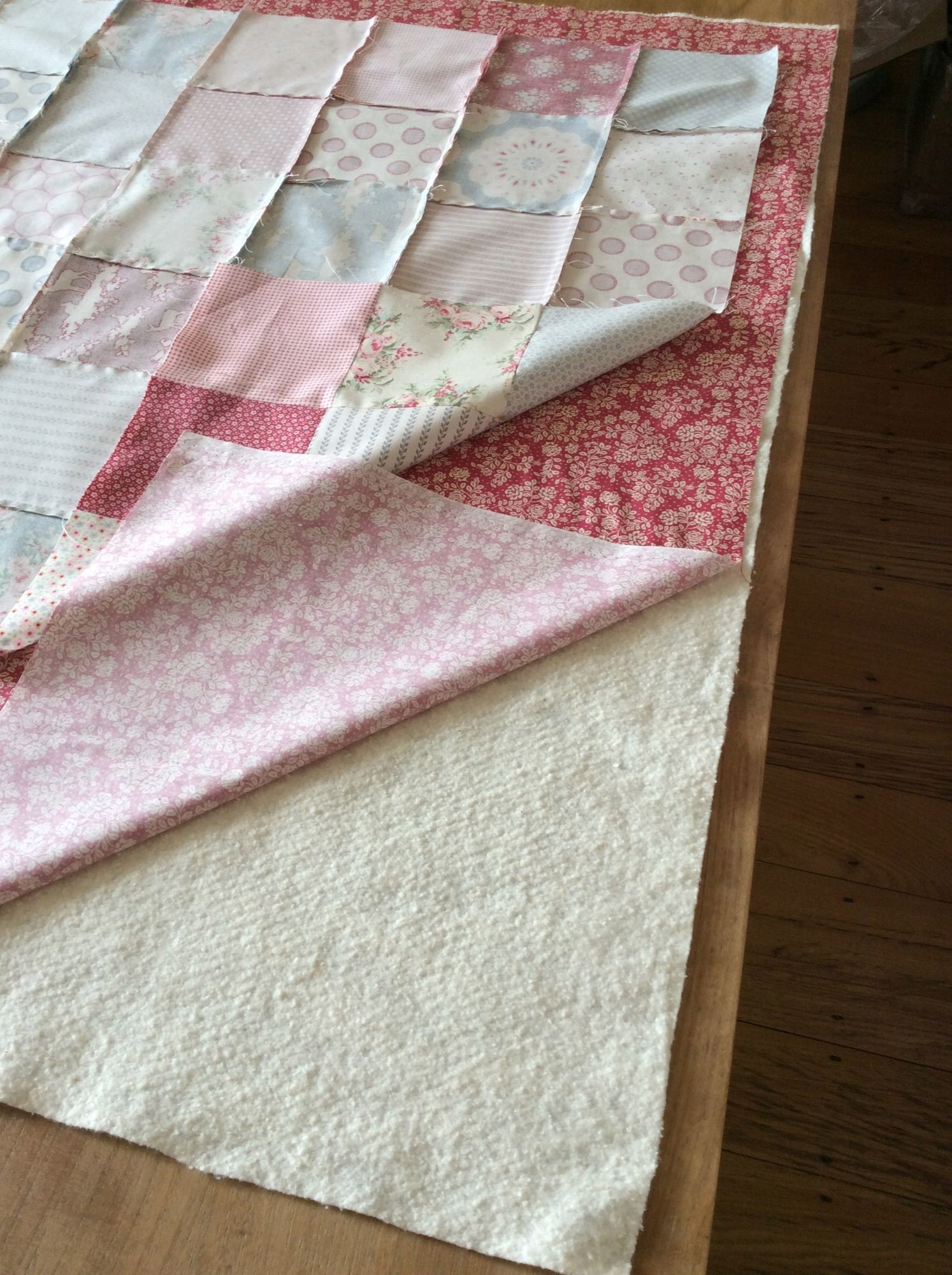 Place the wadding down first making sure that it's smooth. Next, place the backing fabric on top of the wadding so that the 'wrong side' is against the wadding and the 'right side' is facing up. Take time to make sure that the fabric is smooth. Then place the quilt top on in the middle of the backing fabric, face down, so the quilt top and backing fabric are right sides together. Don't be tempted to put the quilt top against the edges of the backing fabric and wadding. You should be able to see the backing fabric all the way around. Again smooth the fabric. You'll be surprised how much the fabric moves. Only when the fabric is smooth pin the edges, smoothing all the time. It may be necessary to repin as you go. At this stage you need to leave a gap of about 6"- 8" on one edge where you will not be sewing, as you will need a gap so that you can turn the fabric inside out later. The gap needs to be big enough for you to gently tease the fabric through, when the time comes. You can mark the gap with pins. The gap I used was 5", which was manageable, but I would suggest a slightly larger gap if you have not used this technique before.
Now you can start sewing again, using a 1/4" allowance all the way around except for the 6" - 8" gap. Trim the excess backing fabric and wadding. You can do this with a pair of scissors and use the edge of the quilt top as your guide. If you are feeling confident carefully trim the corners off, making sure you don't cut beyond the stitching. This allows you to have neater corners once the fabric is turned inside out.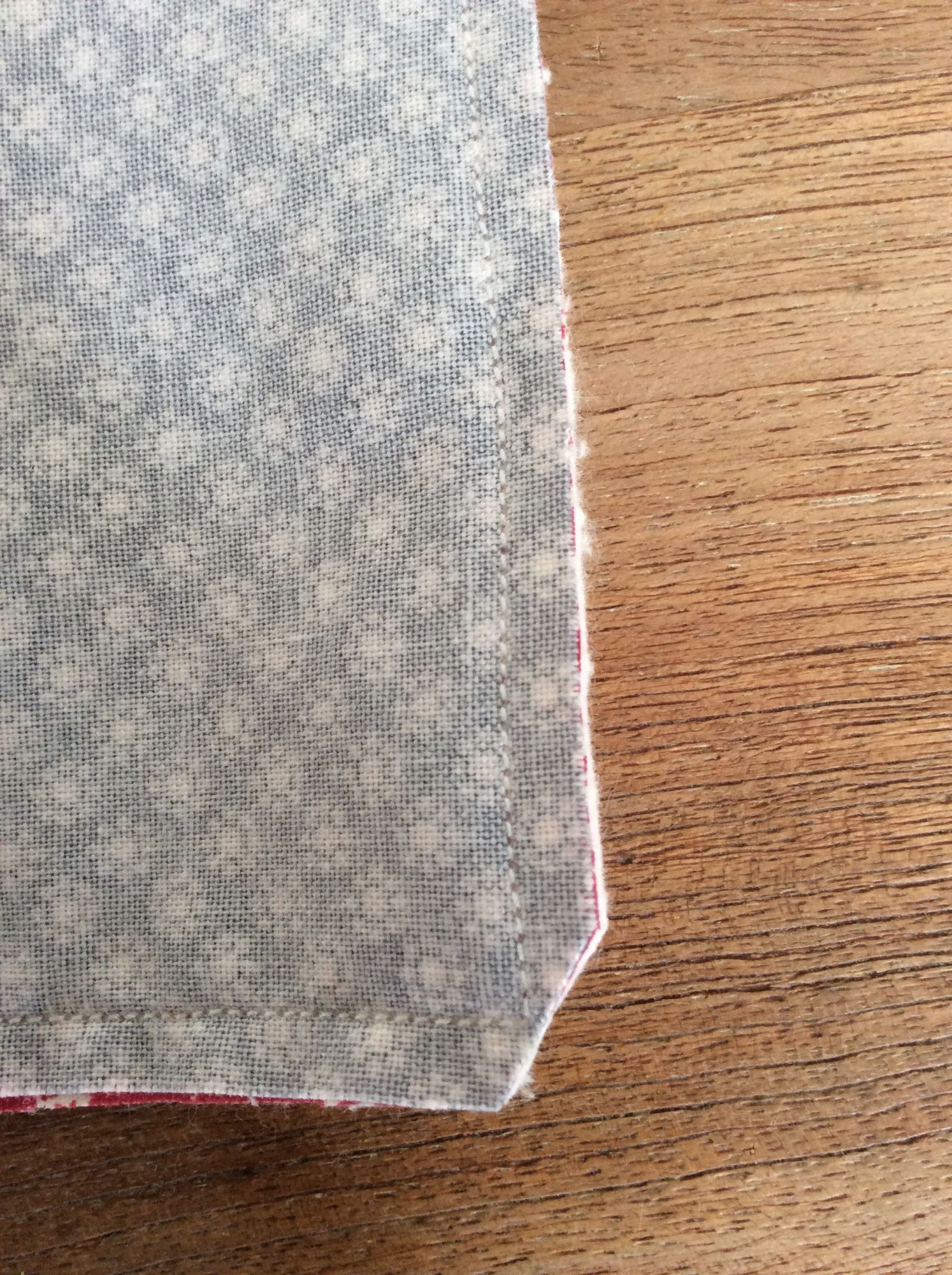 Next, you need to carefully turn the fabric inside out, pulling the fabric gently through the 6"-8" hole that you should have left for this purpose (see the picture below). With a little bit of wriggling this can be done fairly easily, just take your time. Use your finger or your unpicker (with the lid on) to push the corner sections out.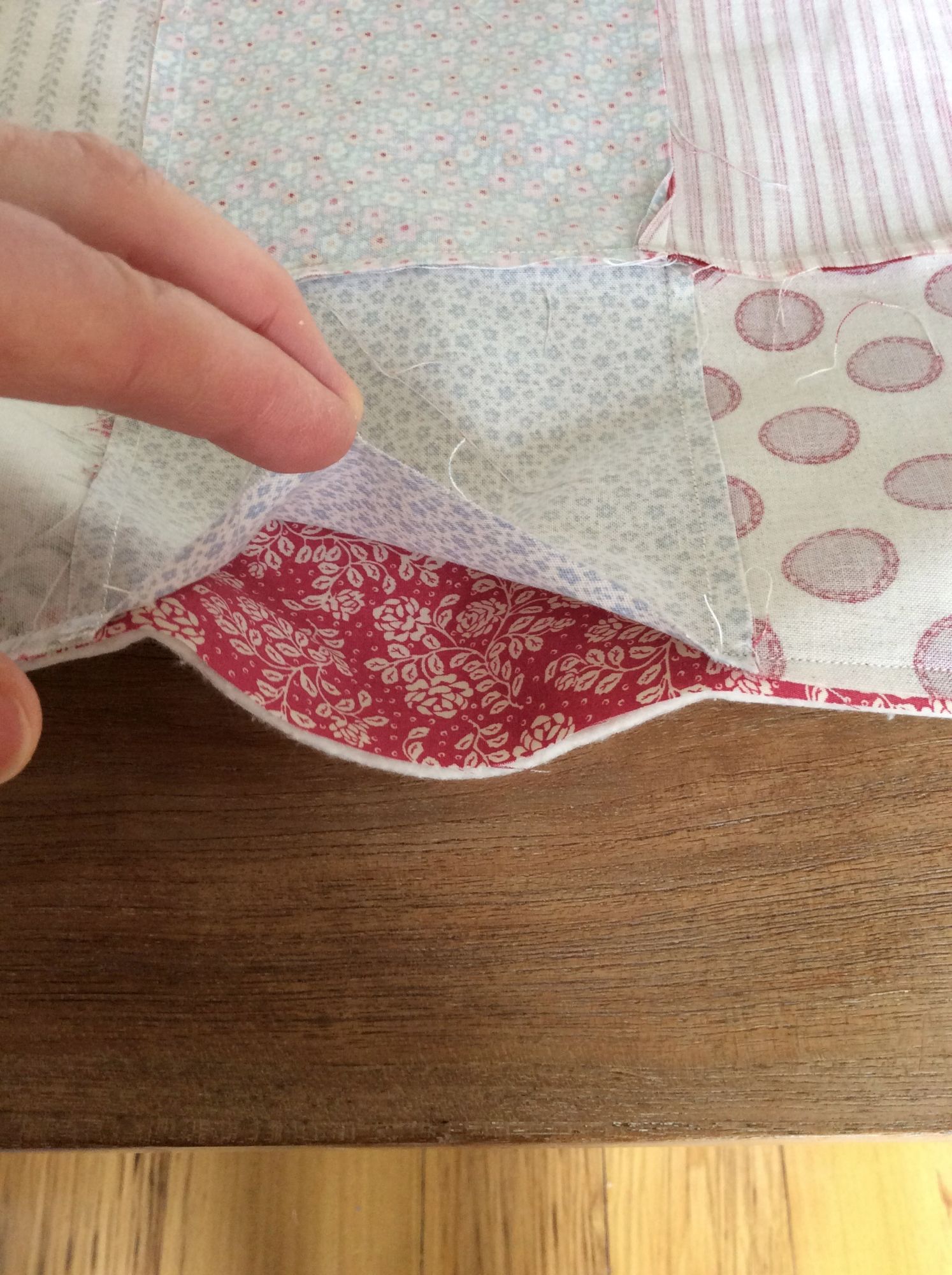 Press the quilt top once more and then using your best hand stitching, close the gap.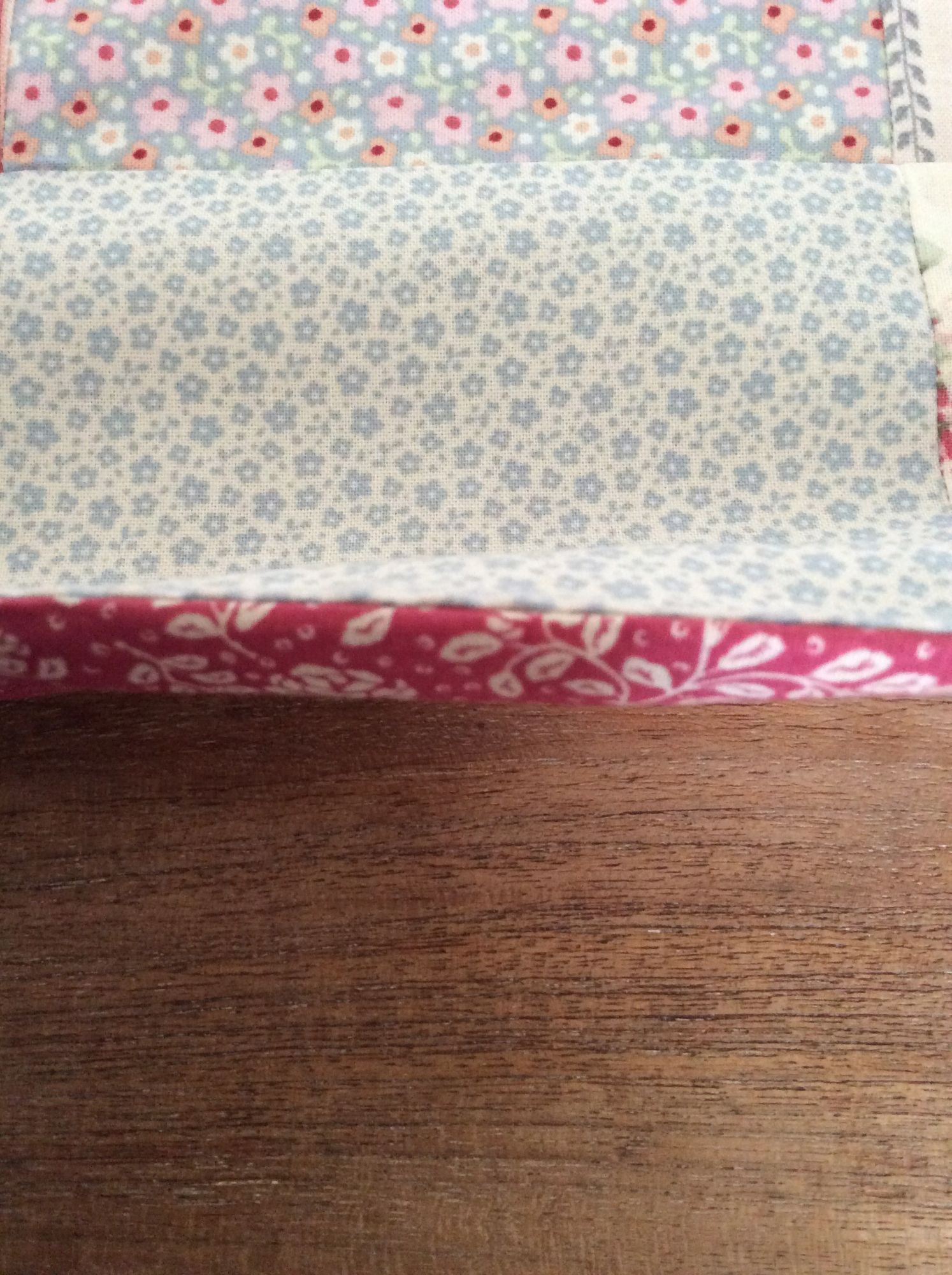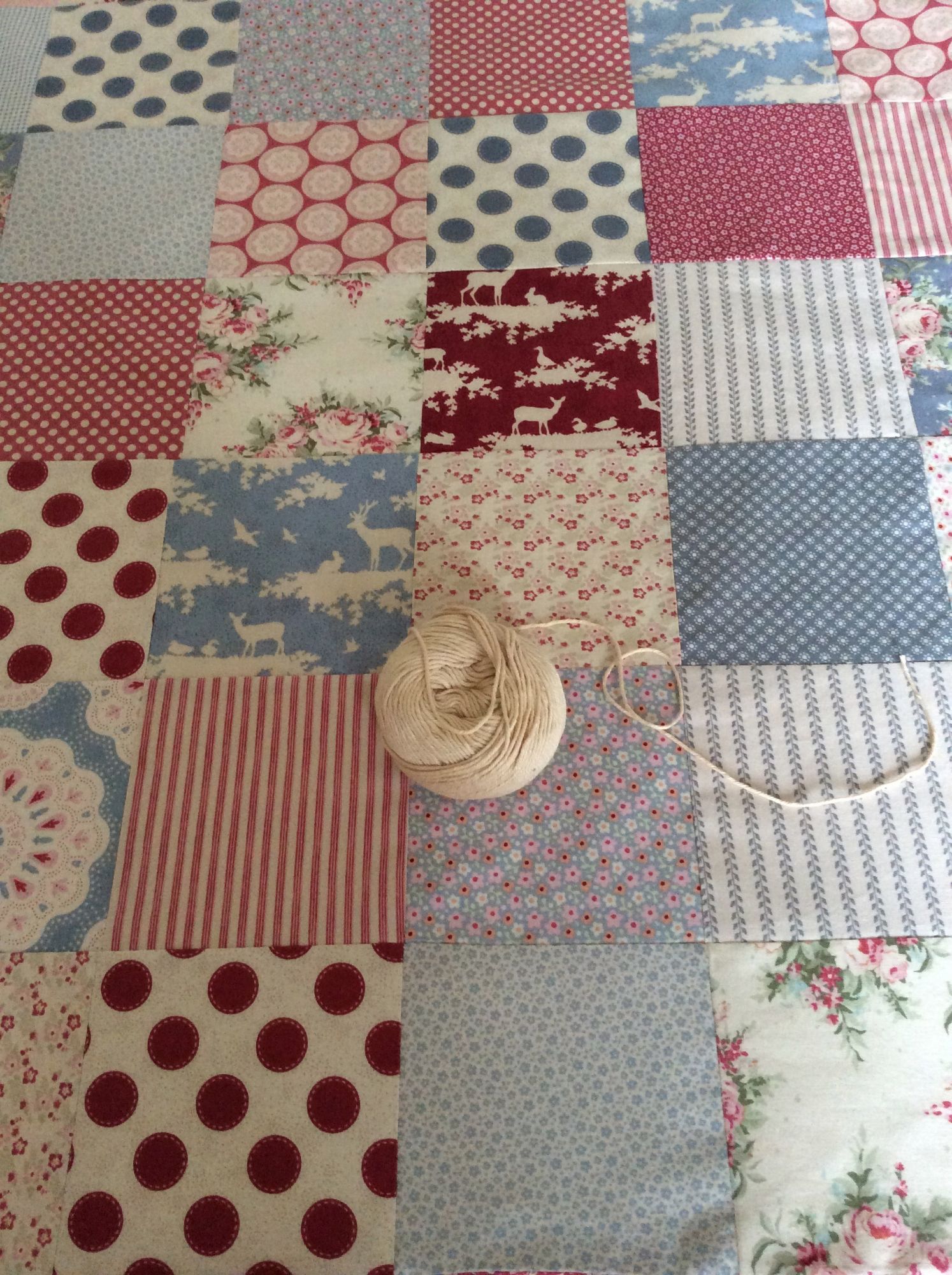 It is now up to you whether you want to quilt the patchwork by hand tying it. I have done this as it anchors the layers and I used some thick cotton thread. The ties should be evenly spaced about a hand's width apart. You will see from the image below that I've put stitches in the corners of each square. If you would like instructions on how to do hand tying, let me know and I'll do a short blog.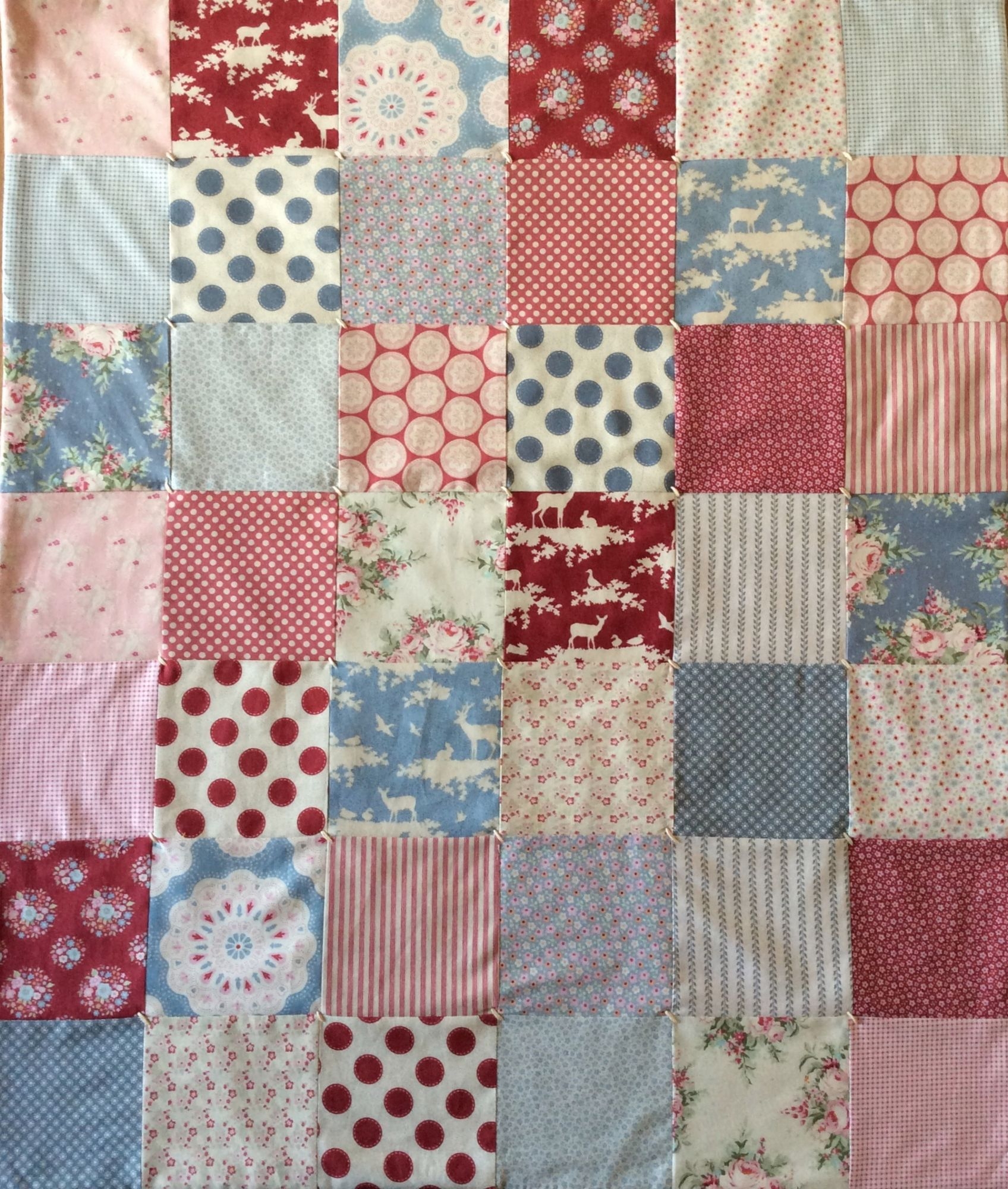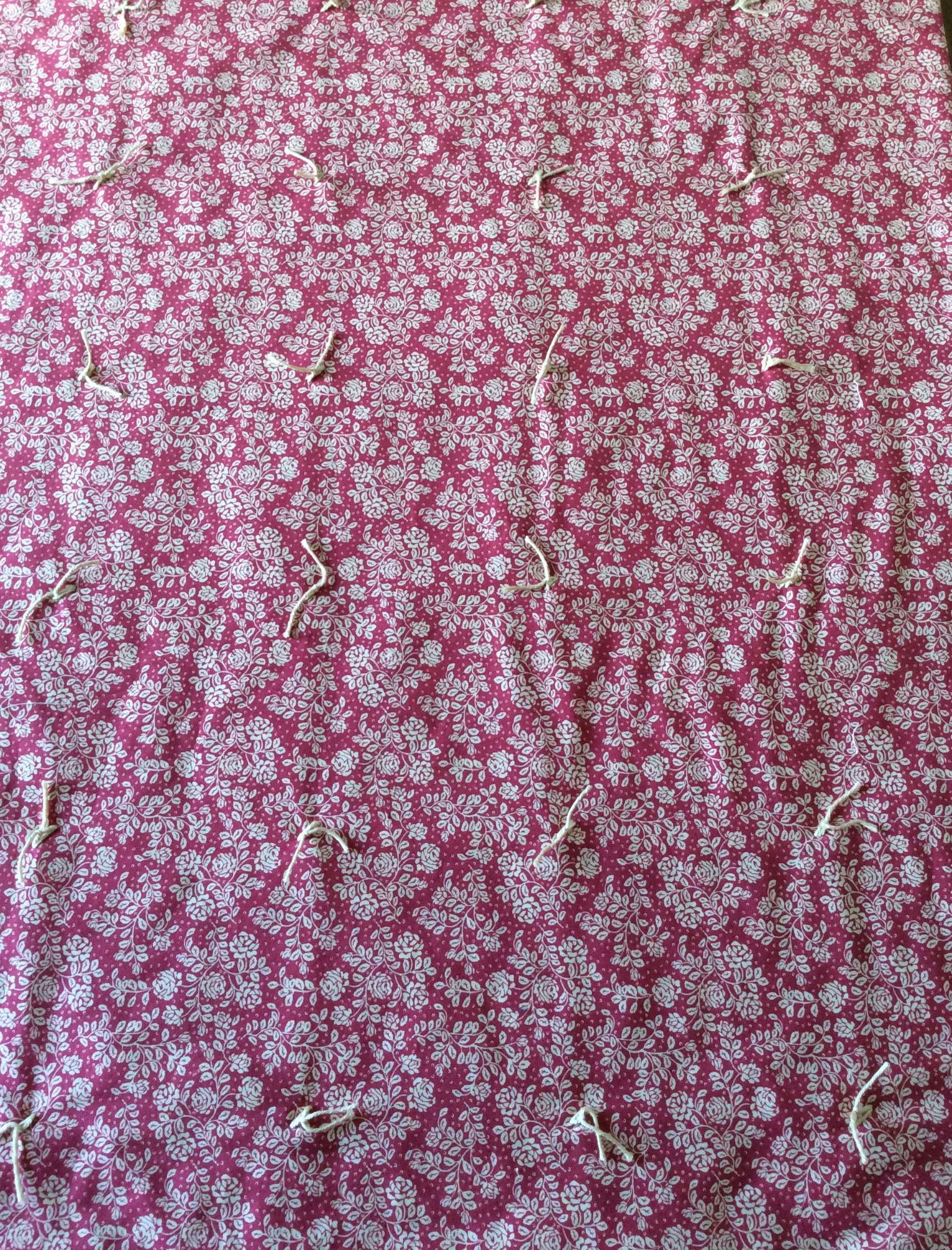 I would love to see any quilts made using this method, so please let me see some photos. Remember that you can use this method for larger quilts, when you could use a pre-cut layer cake (10" x 10").
One final point. It's worth giving your bobbin case a good clean out as the wadding tends to leave fibres.